Bauma 2001
Hall B5: Komatsu and Volvo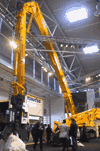 Komatsu PC380 LC avance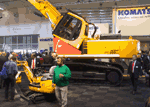 For more comfort: tilting cab on PC380
In foreground: Komatsu's smallest: PC03

PW170ES-6 with rotating stick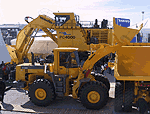 Komatsu PC4000 and its 27.5-yd³-bucket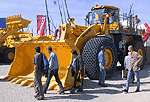 Wheel loader WA700-3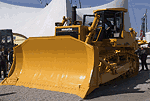 Crawler dozer D475A
Volvo and Komatsu had divided hall B5 and the adjanct open air area mostly among themselfs. While Komatsu showed relativly modest ehibits like a longfront "PC380 LC avance" and a PW170ES-6 with rotating stick indoors, heavy equipment, that could compete with the Liebherr machines (see part 4), could be found outdoors.
The most dominating machine was clearly the front shovel PC4000, that even with its 27.5-yd³-bucket is only the medium model out of a series of five different mining shovels.
Definitly smaller but still way too big for a bungalow construction site were the shown wheel loader WA500-3 and WA700-3 as well as the dozer D475A.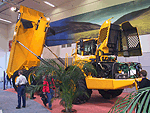 Volvo A40D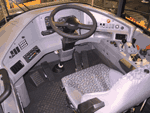 Driver's area of a Volvo dump truck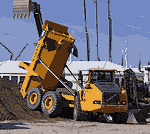 Volvo A35D on the demonstration ground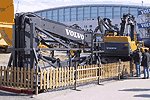 Longfront boom of a EC360 in its transport frame
Volvo showcased a broad collection of their products indoor as well as outdoors. Among this were articulated trucks like A35D and A40D and several wheel loaders, up to the biggest one, the L330D.
Among the excavators was the EC360 with interchangeable boom, i.e. the standard boom can be replaced rather quickly by a long demolition boom. The EC360 was shown with mounted gooseneck boom while the lonfront boom rested in its transport frame.