Bauma 2001
Liebherr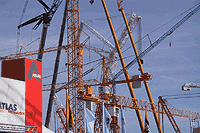 Clearly visible, even from far: The Liebherr booth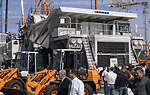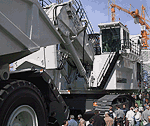 Spectacular duo: Liebherr R 995 and TI 272
The Liebherr booth was in 2001 again one of the biggest attractions due to its spectacular exhibits. On the one side, a collection of excavators, wheel loaders and dozers could be seen. In the middle of these stood the front shovel R 995 with 23-m³-bucket (30 yd³) and the dump truck TI 272 with 290 metric tons (319 sht) of payload capacity. Of course, both were allways tightly beleaguered due to their hight of 7 (23 ft) and 8.5 m (28 ft) respectively and a width of 8 m (26 ft).
| | |
| --- | --- |
| | |
| This R 974 with front shovel looked rather small compared to the R 995 | This A 974 material handler featured an extraordinary undercarriage |
Compared to these giants, other exhibits looked rather fragile—even large machines like the 83-t-excavator R 974 with front shovel. The same base machine was also shown in a material handler configuration with an odd looking 4-axle undercarriage.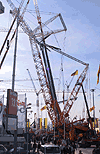 The new LR 1600/1
On the opposite side of the trade show pavillion, Liebherr presented its cranes. Among several top-slewing tower cranes and fast-erecting carnes, a couple of mobile cranes were shown.
But not less sepactacular than the R-995-TI-272-combination in the earth-moving area was the new 600 t (661 sht) crawler crane LR 1600/1. As a world premiere, this crane can be fitted both with crawlers or outriggers for stationary-only operations. The pedastal configuration makes for an increase in lifting capactiy of up to 267%. For presentation purposes, the was equipped with a crawler and an outrigger block on each side respectively, a derrick boom, a short luffing jib and a 600-t-hook-block.
A lot smaller, but not less elaborate were the TT fast-erecting cranes which erecting by only one person was demonstrated extensively.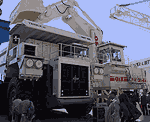 O&K RH 120 with Unit Rig MT3300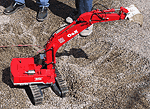 Nice gag: A remote-controlled RH 30-F
Vis-à-vis from the Liebherr area, O&K Mining went for a rather modest 265-t-excavtor (584,000 lb) RH 120-E - this company produces the currently largest hydraulic excavator RH 400 with about 900 metric tons (1,984,000 lb) oparating weight, after all. Matching in size, a Unit-Rig dump truck MT3300 with a payload of 136 metric tons (150 sht) was shown.
| | |
| --- | --- |
| | Looks like old "Weserhütte" excavators: Fuchs log loader MHL 330 H |
| | Also shown by Fuchs: This harvester of unknown type with pitch-compensating crawlers. |