Bauma 2001
Hall B6: Caterpillar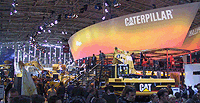 Caterpillar's exhibits
Caterpillar had rented most of hall B6 and had seemed to given order to the designers of the booth to make life as hard as possible for photographers. They succeded by using dim red light all over the hall and putting stairs in front of the exhibits.

Cat 365 with longfront boom in front of the hall
Caterpillar presented several new machines like the articulated dump trucks 725 and 740 with newly designed driver's cabs as well as the (not quite new) wheel loader 988G, that is the largest loader equipped with a box boom. Caterpillar claims to achieve higher reach, lifting power and extraction force with this boom system.
Always beleaguered by visitors were the "big boys"—a 5110B minig excavator and and a D11R CD (the biggest dozer Caterpillar sells). Additionally, the D11 was equipped with the CAES (= Computer Aided Earthmoving System), a system that shows the current as well as the desired shape of the ground to the operator on a small monitor, based on GPS data.
But also machines like the reworked hydraulic excavator 365B with "Mass Excavation&rdquo boom and the 775 dump truck were far from small.
| | | |
| --- | --- | --- |
| | | |
| Caterpillar demonstrates the flexibility of the blades on their motor graders | Soil stabilizer RM350B | Unfortunately a little blurry: 725 with new cab |
| | | |
| Mining excavator 3110B | Wheel loader 988G with box boom | Hydraulic excavator 365B with ME boom |
| | | |
| Unfortunately rather obstructed "zugebaut": dozer D11R CD | Driver's cab of D11 with CAES | Also in front of the hall: twin-engine scraper 627G |

Putzmeister M 52
Putzmeister had managed to get a small area in hall B6 and presented a collection of their "PUMI" Truckmixer concrete pumps and truck mounted conrete pumps.
Among these was the reworked M 52, a conrete pump with 52 m (170 ft) reach, mounted on a 5-axle "Actros" truck.