Bauma 2004
Open-air grounds F6–F8: Terex, Bauer, JCB and others
O&K RH 340
Fuchs Quick Connect
MHL 464 log handler
Close to Liebherr was the area of the Terex Group that consists of O&K Mining and Fuchs, for example. O&K Mining had gone big and had brought its second largest product to munich – the newly developed RH 340 that is supposed to close the gap between RH 200 and RH 400 with its operationg weight of 545 metric tons (1,200,000 lb). As expected, the excavator was always tightly beleaguered – especially when the two engines with a total power output of 2,500 hp (1,880 kW) roared during the demonstrations.
The choice of exhibits was of course a little more modest on the Fuchs booth. Among other things, the new Quick Connect system was presented on a MHL 360. With this, the stick can be removed almost completely from the base machine within very short time in order to be replaced with other attachments. For example a large scrap shear – a good idea for scrap loading and processing.
The rather new log handler MHL 464 was shown. This machine is designed specifically to the demands of the logging and lumber industry and is able to move around even with a load of 14 metric tons (30,800 lb) of logs &ndash and is moreover rather agile doing so.
| | | |
| --- | --- | --- |
| | | |
| Can move trees: Kramer Allrad (all-wheel-drive) 280 with tree spade | Ideal for small-scale roadwork: Kramer Allrad (all-wheel-drive) 380 with tail-mounted compressor | Kramer's biggest: the 880 |
After the visit at Terex, I went on to the booth of Kramer. The German manufacturer that is well known for its compact all-wheel-drive loaders had revamped its product range both in respect to design and construction. According to this the whole range from the small 180 to the rather big 880 could be seen.
The Bauer booth. From left to right respectively: BG 12H, BG 15H with kelly trench cutter, BG 24H, BG 25 with trench cutter BC 32 and BG 40
Close to Kramer, The Bauer Group, known for its drilling and foundation machinery and contracting showed examples of their products. Among others, the drilling rigs BG 12H and BG 15H (the first two machines which upper carriage is completely mad by Bauer) as well as the hundredth "BC" trench cutter built.
| | | |
| --- | --- | --- |
| | Since Ahlmann is selling french Mecalac machines in Germany, both manufacturers shared a booth. Mecalac showed its well known versatile excavators (right) while Ahlmann presented its newest and largest AS 210 loader (left). | |
| | |
| --- | --- |
| | |
| Sennebogen booth with 850 M | 835 M-HD log handler |
| | |
| New O&K MH 8.6 | Made by O&K too: hydraulically adjustable trenching bucket |
Sennebogen had set up a varity of its product tightly in their booth: Along the crawler crane Star-Lifter 5500 SL well known to model collectors stood smaller cranes of the "crane line" and material handlers of the "green line": a 835 M-HD log handler and a 850 M material handler with raised upper carriage.
Compare to this, the O&K presentation had been rather compact: The new wheeled excavators up to the MH 8.6 top-model had been on display.

The JCB compact excavators …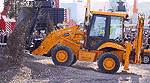 …and backhoes …

…were presented nicely.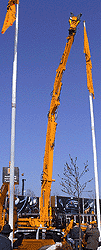 JS 330 with Longfront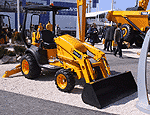 "Mini CX" backhoe
JCB of Great Britain, "home" of the backhoe, showed several of these multi-purpose machines. Among these the new "Mini CX", a very compact machines that seems to be intended for gardening and landscaping contractors. But also larger equipment like the 2CX (shown with sideways tiltable bucket), that is supposed to "need only a little more space than a medium-sized car". The later was shown extensively on the demonstration ground. There was also presented a multi-purpose bucket for excavtors which body can be flipped away from the blade hydraulically, similar to wheel loader multi-purpose buckets. This enables the worktool to be used as a grapple for example.
On the remainig JCB booth, more machines of the whole product range were shown – among wheel loaders and articulated dump truck also a JS 330 with demolition boom.