Bauma 2007, part 2
Hall B5
New Holland E385 with longfront boom (left) and dozer D150B (right)
Hall B5 was mostly occupied by Komatsu and New Holland. Komatsu mainly showed their new line of series -8 tracked excavators here, which were on display in large numbers. Among them was a PC290NLC-8 with long boom ans stick. The two largest exhibits on this area was the 105 tonnes excavator PC1250SP-8 together the HD785-7 dump truck with a payload of 100sht. But also the WA600-6 wheel loader shown wasn't exactly small.
Two machines were shown especially for logging purposes: A PC210LC material handler with a grapple for log loading as well as a wheel loader WA500-6 HLLG with "high lift" equipment with an enormous log grapple. Beside the dozer D155AX-5, which was shown "only" in a slightly reworked version, a real novelty could be seen: The D51EX dozer, which gives the driver good visibilty to the dozer blade due to it's very short and steeply sloping hood.
In another part of the hall, the smaller show area of New Holland was situated. Among other things, an E385 excavator with longfront boom, developed in cooperation with Kobelco was showcased here. Furthermore, the preliminary model of the new dozer D150B could be seen here, which offers, like many other machinery of other manufacturers too, compliance with new, tougher emission standards (tier III).
The two large-scale exhibits Komatsu HD785-7 (far left) and PC1250SP-8 (left)
Two logging machines: PC210LC MH (right) and WA500-6 HLLG with log grapple (far right).
Komatsu dozers D51EX (far left) and D155AX-5 (left)
Komatsu PC450LC-8 with articulated dump truck HM400-2
Wheel loader WA600-6
Two Komatsu excavators with hammers: PC350NLC-8 mit (far left) and PC290NLC-8 (left).
Midi short tail excavator PC138US-8
Wheeled excavator with rotating stick and clamp bucket
Open-air ground F5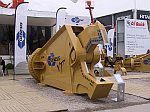 24 tonnes scrap shear (53,000 lb) Genesis GXP2500R with more than 3,000 tonnes of shear force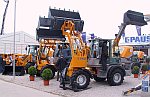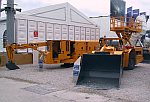 Swing loader SL1055 (top) and underground mining machinery (bottom) by Paus
Aside from the Komatsu outdoor area, there were several more booths present on the open-air ground in front of hall B5: The German company Paus showed it's products, ranging from swing loaders to underground mining machinery.
The star on Hitachi's show area and one of the largest excavators on Bauma undoubtly was the EX5500 with an operating weight of more than 500 tonnes and up to 30m³ (40 cuyd) of bucket capacitance. But the also-shown Zaxis 870LCH with an operating weight of 85 tonnes wasn't exactly small either. A special machine, that has already been in service for several months was the Zaxis 470LCH. This machine is equipped with a longfront boom that can be removed by means of a hydraulic quick coupling connection and replaced by a short boom. This coupling device automatically disconnects and re-connects all hydraulic hoses running along the boom.
Another special machine was a Zaxis 225USRLC with telescopic boom which gives increased reaching depth. In order to give the excavtor's driver a good visibility, the driver's cab can be moved forward.
Also rather unsual was an armoured Zaxis 200 which carried a de-mining device and is used for demining work in Cambodia by the UN.

Large excavators Hitachi EX5500 (far left) and Hitachi Zaxis 870LCH (left)
Two Hitachi excavators with high reach demolitin booms: Zaxis 350LCH (right) and Zaxis 470LCH with quick couplin boom (far right).
Two times Hitachi Zaxis 225 – with telescopic boom as USRLC (far left and left) and in short tail version USLC (right).
Hitachi Zaxis 200 for mine clearing