Bauma 2007, part 5
Open-air ground F7
JCB 722 articulated dumptruck
JCB 446ZX wheel loader
JCB JS330 long-reach and high-reach equipment
JCB demo show with five 2CX
JCB 8080 with special bucket
JCB micro excavators
JCB Fastrac 8250
JCB had rented on of the biggest areas on the open-air ground F7. On this, a huge collection of machines was shown, representing JCB's whole product range. Among the tracked excavators like the new JS330 which was showcased twice: with long-reach boom and with high-reach demolition boom. The range of ecxavators was completed down to the smallest one, the JCB "Micro", which could be seen in two boom configurations too: tube and box form. But also articulated dump trucks like JCB's biggest one, the 20 tonnes carrying 722, the new Fastrac 8250 or wheel loaders like the 446ZX could be seen. To present their machines even better, JCB had organised an elaborate demo show.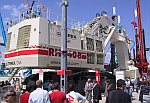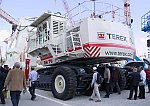 Mining excavators by O&K-Terex: RH340-B (top) and RH70 (bottom)
Aside from JCB, the booth of the Terex Group was also rather big, since many companies producing a very large varities of machines belong to this group. Aside from Demag cranes, the O&K mining devision belongs to Terex for some time now. While in 2004 the very first RH340 was presented (O&K's second largest excavator), in 2007 the 38th unit (now as RH340-B)could be seen. This is quite amazing for a machine this big, with an oprating weight of 550 tonnes and bucket capacity of 34m³ (44 cuyd). But with a weight of 122 tonnes, the also shown RH70 wasn't excatly small either. It was exhibited with transportation wheels by Sleipner, which allow quick location changing within a mine with the help of a large dump truck.
Another German manufacturer belonging to the Terex Group is Fuchs who showed their typical blue material handlers. Among these were the MHL454 log handler as well as the MHL340 and MHL350, which both have already been sold more than 1,000 times.
Furthermore, numerous other machines were on display at Terex' like wheeled excactors or the new articulated dump trucks TA40 and TA30, the later of which being the only dump truck of it's class with independent suspensions all around.

Terex-Fuchs material handler MHL454 (far left), MHL350 (left) and MHL340 (right)
Terex TW140 wheeled excavator
Terex TA40 articulated dump truck with TL450 wheel loader
Terex TA30 articulated dump truck
Terex TW110 wheeled excavator with bucket with integrated drum cutter
Among other companies situated on the open-air ground F7 were Case, Ahlmann and the manufacturers of foundation equipment ABI and Delmag. Case celebrated the 50th anniversary of the backhoe loader and also various other excavators up to their second largest one CX700.
At ABI's booth, the Hydro Press System could be seen, for example. This system allows vibration-free sheeting works on sites were vibrations are not acceptable. Delmag showed their new rotary drill rig RH26W.
At the Sennebogen area, two material handlers were on display: A 830 with an quick connection system for exchanging a LaBounty MSD 200R-SL with a boom-stick as well as a 850 on tracks and a raised upper carriage.

Excavators by Case: CX330 HRD with longfront boom (far left), CX700 (left) and WX165 (right)
Ahlmann's biggest swing loader AS210
ABI Hydro Press System
Delmag RH26W
Sennebogen 830 and 850
Multi-purpose carrier Multitask MT-120 with mulch device