Bauma 2007, part 7
Open-air ground F9–F13
Bobcat compact excavators 341 (left) und 323 (prototype, right)
Bobcat compact loaders 463 with hammer (left) and S185 with trench cutter (right)
Bobcat tracked compact loaders T190 and T140 (left) and T300 with S100 (right)
One of the most well-known companies present on the open-air grounds F9–F13 should be Bobcat, the American manufacturer of compact machines. On this booth, the whole product range was represented up to the latest prototypes like the compact excavator 341, but also the famous compact loaders, of course. A T300, weighing 4 tonnes, demonstrated the power of this machines by carrying during the demo shows it's "little brother" S100 weighing 1.8 tonnes.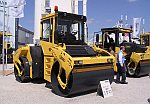 Bomag BW203AD-4 twin roller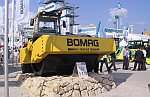 Bomag BW236D-4 roller with polygonial drum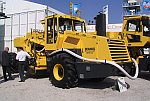 Bomag MPH122-2 soil stabilizer
Other well-known manufactures on this open-air grouns were Bomag, Wirtgen and Vögele. Bomag, now member of the Fayat Group, showed a representation of their product range, including rather rare machines like the MPH122-2 soil stabilizer or BW236D-4 roller with a polygonial drum that is supposed to give better compaction results.
The Wirtgen Group, of which Vögele is a member, showed, like in 2004, almost it's complete range of products. Among this were the new -2 pavelayers Super 2100-2 and Super 1800-2. Wirtgen showed large-scale machines like the 2500SM surface miner with an operating width of 2.5m (98″) or the cold recycling mixing plant, built onto a semi-trailer.

Vögele Super 2100-2 (far left) and Vögele Super 1800-2 (left)
Wirtgen 2500SM surface miner
Wirtgen cold recycling mixing plant KMA200
Aside from this, of course many more manufacturers were present on this open-air ground, some of which are represented in the following pictures:
SC90 trench cutter (left) and SR90 rotary drill rig (center and left) by Soilmec
More drill rigs by Casagrande (left) and Mait (center)
PTC Vibrodriver 200HD with 4230kN maximum driving force
Manitou telehandler with the world's largest tyre, a Michelin 59/80 R 63 XDR weighing 5,300kg
Cifa K58L-XRZ concrete pump
HBM-Nobas BG240TA grader
Ammann ASC200 roller
NewDynapac DS400 soil stabilizer
Cable plow by Föckersperger
Can even pick up heavy iron chains: Grünig road sweepr.
Universalmaschine Haulotte Multijob MJX 970 in black special paint